Eid Al Adha Meaning – Eid Al Adha Greetings
May Allah bless you with beautiful feast of sacrifice on Eid-ul-adha!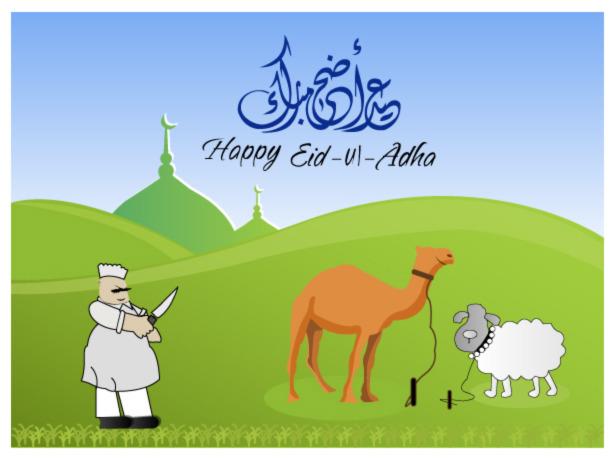 What is Eid-ul-Adha Meaning:
At the end of hajj Muslims throughout the world celebrate Eid ul adha. Eid-ul adha also called the "sacrifice Feast" or "Bkra-Eid". Eid-ul-adha is an Islamic festival to commemorate the willingness of Ibrahim to follow the Allah's command to sacrifice his son ismael.
Its public holiday days that days schools and businesses are closed.                               
That day Muslims sacrifice: of a sheep, cow, goat, buffalo or camel and then donating one-third of sacrifice meat to friends and neighbors and donating one-third or more of sacrifice meat to the poor and needy people

When Eid-ul-Adha 2023:
Eid ui adha is four day Islamic festival starting on the 10th day of the month Dhul hijja. The celebration dates of Eid ul Adha in George calendar is Wed, Jun 28, 2023. Its celebration around  to Thu, Jun 29, 2023
Eid ul adha Celebration:
Eid prayers.
Gathering of family and friends meals especially lunches and late breakfast.
Wearing clean cloths.
Gift giving.
Giving money/gifts to kids
Helping the poor by giving foods, money, meat and clothes in name of zakath.
Eid-ul-adha sayings:
Allah sayings: "it is neither their meat nor their blood that reaches Allah. It is your piety that reaches him. He has thus made them subject to you that may glorify Allah for his guidance to you and proclaim the good news to all who do right."
Quran sayings: "surely Abrahim was an example, obedient to Allah by nature upright and he was not of the polytheists. He was grateful for our bounties. We choose him and guided him unto right path. We gave him good in this world and in the next he will most surely be among the righteous."
Eid-ul-adha wishes:
On Eid-ul-adha wishing that your sacrifices are appreciated  &  And your prayers are answered by Allah almighty J
May the unlimited blessings of Allah bring you hope, love, laugh faith and a bouquet of joy forever on Eid-ul-adha.
Eid-ul-adha is eid of sacrifice and commitment of Allah's order
May Allah bless us with the same spirit in all circles of Life. Eid ul adha gives a lesson of believes in Allah so believe on him and he will grant you your heart's desire.
May every blossom in the garden of life
Bring your Eid with joy
And fill your day with sweet fragrance of happiness. J
May on this Eid the plate of your life is filled
With juicy kababs & tikkas,
topped with chatni of happiness,
And covered with salad of love!
On this Hajj, I want to make you know that you are a very special person and that's why I have decided to send you the warmest of all greetings this special day. Happy Hajj!
On this Hajj, may Allah accept your Duaa, May he answer all your prayers and grant your wishes. May this day bring joy and happiness to your life. Hajj Mubarak!
 How can I find a word of wishes which express my feelings to your way. Your smile brightens my life even more day by day hoping that this EID day brings warm happy hours, Bless your soul with purity and being joy to your heart friends and family.
When you leave mecca bring Islam home, not just dates and Zamzam water – Hajj Mubarak
Have a blessed Eid-ul-adha