Home
»
Diwali Messages
» Happy Diwali Festival the festival of lights and colors is for one and all
Happy Diwali Festival the festival of lights and colors is for one and all
About Diwali:
                       Diwali is an Indian culture and it's seasonally celebrated. It is the most important festival in Hinduism. Diwali is the biggest and brightest of all Hindu festivals. This festival brings lights and happiness. That day people clean their home and decorate them for festivities. Its festival of lights that marked by four days of celebration. Each of the four days of celebration of Diwali is separated by a different tradition, but what remains true and constant is the celebration of life, its enjoyment and goodness.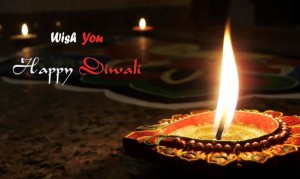 When Diwali 2021:
Diwali is on Thursday, 4 November 2021 and will continue to Sunday, November 07, 2021.  Diwali coincides with the darkest new moon night of the Hindu Lunisolar month.  Diwali nights falls between mid-October and mid-November.
Diwali Celebrations:
                         Diwali is celebrated by lighting, home decoration, shopping, fireworks, puja (prayers), gifts, performing religious traditions, feast and sweets. Its celebration includes millions of lights shining on housetops, outside doors and windows, around temples and other buildings in the communities and countries where it is observed. Before Diwali night people clean renovate and decorate their homes and offices. On Diwali night Hindu dress up in new clothes or their best outfit, light up lamps and candles inside and outside their home. Participate in family puja (prayers) for the goodness and fertility and prosperity. After prayer fireworks follow then family feast including sweets and exchanging of gifts between family members and close friends.
Gifts for Diwali:
                           People give clothes, appliances, kitchen utensils, even expensive items such as cars and gold jewelry. People also buy gifts for family members and friends which typically include sweets, dry fruits and seasonal specialties depending on regional harvest and customs.
              Girls and women go shopping and create rangoli and other creative patterns on floors near door and walkways.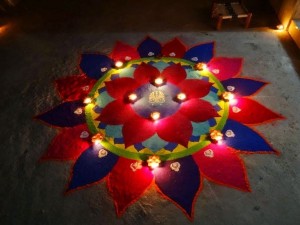 Youth and adults alike help with lighting and preparing for fireworks.
Background:
                     Hindu across the world celebrate diwali in honor of the return of lord rama his wife sita and his brother lakshmana from exile of 14 years after rama defeated ravana. To honor the return of lord rama, sita and lakhshmana from lanka and to illuminate their path villagers light lump to celebrate the triumph of good over evil.
Diwali wishes:
May the happiness in your life be as over lasting like as lump lights?         
May the festival of lights be the harbinger of joy and prosperity. As the holy occasion of Diwali is here and the atmosphere is filled with the spirit of mirth and love, here's hoping this festival of beauty brings your way, bright sparkles of contentment, that stay with you through the days ahead. Best wishes on Diwali.
Happiness is in air It's Diwali everywhere Let's show some love and care And wish everyone out there Happy Diwali!!
                          In this festival lakshmi give right picture to the Hindu goddess of wealth and prosperity. Hindu prays to lakhshmi to bring them good luck in the coming year.
Diwali give us message it's the celebration of inner light over spiritual darkness knowledge over ignorance right over wrong good over evil.
 Diwali Quotes:
May you all attain full inner illumination! May the supreme light of lights enlighten your understanding! May you all attain the inexhaustible spiritual wealth of the Self! May you all prosper gloriously on the material as well as spiritual planes!
This Diwali let us give thanks for all we hold dear: Our health, our family, our friends and to the grace of God which never ends
Many Deepavali festivals have come and gone. Yet the hearts of the vast majority are as dark as the night of the new moon. The house is lit with lamps, but the heart is full of the darkness of ignorance. O man! wake up from the slumber of ignorance. Realize the constant and eternal light of the Soul which neither rises nor sets, through meditation and deep enquiry.
O Ram! The light of lights, the self-luminous inner light of the Self is ever shining steadily in the chamber of your heart. Sit quietly. Close your eyes. Withdraw the senses. Fix the mind on this supreme light and enjoy the real Deepavali, by attaining illumination of the soul.
Laxmi aayegi itni ki sab jagah Naam hoga, Laxmi aayegi itni ki sab jagah Naam hoga, Din raat vyapar bade itna adhik kaam hoga, Ghar Pariwar samaj me banoge Sartaj, Yehi Kamna hai hamari aap ke liye Diwali ki Dhero Shubh Kamanaye….
He who Himself sees all but whom no one beholds, who illumines the intellect, the sun, the moon and the stars and the whole universe but whom they cannot illumine, He indeed is Brahman, He is the inner Self. Celebrate the real Deepavali by living in Brahman, and enjoy the eternal bliss of the soul.
The sun does not shine there, nor do the moon and the stars, nor do lightning shine? All the lights of the world cannot be compared even to a ray of the inner light of the Self. Merge yourself in this light of lights and enjoy the supreme Deepavali.
Memories of moments celebrated together……. Moments that have been attached in my heart, forever……. Make me Miss You even more this Diwali. Hope this Diwali brings in Good Fortune & Abounding Happiness for you!
Conclusion:
                     The story shows how good wins over evil.