Eid-ul-adha, the Islamic Festival of Sacrifice 2021 and 2022
May Allah bless you with beautiful feast of sacrifice on Eid-ul-adha!
Hajj Wishes 2022 : Hajj is one of the five pillars of Islam and Muslims perform it once a year. It is a must for every Muslim who is financially as well as bodily well.
If your loved ones are performing or planning to perform Hajj then you can send them amazing Hajj Wishes, Quotes, Greetings, or Messages to motivate them.
At the end of hajj Muslims throughout the world celebrate Eid ul adha. Eid-ul adha also called the "sacrifice Feast" or "Bkra-Eid". Eid-ul-adha is an Islamic festival and also known as the greater eid  to the honor of willingness of Ibrahim to follow the Allah's order to sacrifice his son ismael in the way of Allah to give a great message of obedient.
Its public holiday days that days schools and businesses are closed. It is three day celebration.
That day Muslims sacrifice: of a sheep, cow, goat, buffalo or camel and then donating one-third of sacrifice meat to friends and neighbors more to the poor and needy people.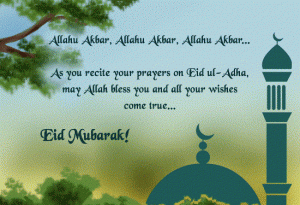 It is a three day festival starting from the month 10th zill hajj. The celebration dates of Eid ul Adha in George calendar is Tuesday, July 20, 2022. Its celebration around 20th to 25th July.
Celebration:
Eid prayers.
Gathering of family and friends meals especially lunches and late breakfast.
Wearing clean and new cloths.
Gift giving.
Giving money/gifts to kids
Helping the poor by giving foods, money, meat and clothes in name of zakath.
Eid ul adha saying:
                              Allah sayings: "neither their meat nor blood of sheep reach to Allah, the real thing that reach to Allah is your purity of sacrifice and charity. At the time of reward Allah proclaim what you do right.
                                 Quran sayings: "surely Abrahim was an example, obedient to Allah by nature upright and he was not of the polytheists. He was grateful for our bounties. We choose him and guided him unto right path. We gave him good in this world and in the next he will most surely be among the righteous."
Eid ul adha wishes:
On Eid-ul-adha wishing that your sacrifices are appreciated
&
And your prayers are answered by Allah almighty J
May the unlimited blessings of Allah bring you hope, love, laugh faith and a bouquet of joy forever on Eid-ul-adha.
I know that not everyone can participate in hajj every year but you can celebrate it every year by sending hajj wishes and messages to your loved ones. This way you won't miss the blessings of this holy occasion.
The knolls of Safa and Marwah are among the rites decreed by God. Anyone who observes Hajj or Umrah commits no error by traversing the distance between them. If one volunteers more righteous works, then God is Appreciative, Omniscient.
Eid ul adha Message:
Eid-ul-adha give us a message of sacrifices for his God, May Allah bless us with the same spirit. Eid ul adha gives a lesson of believes in Allah so believe on him and he will grant you your heart's desire.
Eid ul adha SMS:
 May every blossom of flowers
Bring your Eid with joy
And fill your day with sweet fragrance of happiness. J
*************
May on this Eid the plate of your life is filled
With juicy kababs & tikkas,                                                                                                    topped with chatni of happiness,
And covered with salad of love!
How can I find a word of wishes which express my feelings to your way. So I wish only in just two words Happy Eid to you and you're Family.
Oh Allah! please grant me the opportunity to perform Hajj. Ameen
The holy pilgrimage to Makkah Hajj A journey of a lifetime.
Here I'm o Allah (in response to your call), Here I'm, here I am you have no partner here i am indeed all praise grace and sovereignty belong to you have no partner.
Narrated Aisha: The mother of the faithful believers, I requested the Prophet (Peace be upon him) permit me to participate in Jihad, but he said, "your jihad is the performance of hajj. "
Patiently endure the trails of Hajj, it is better for you and a purification from your sins.
Ya Allah gives us the chance to offer hajj. Ameen
One race, One god one religion!
It means that hajj is like the hajj of the Prophet Muhammad (peace be upon him)
On Friday there is an hour when no Muslim slave stands to pray and aks his lord for something but he will grant it to him.
The day of Arafah is an eid and Friday is an Eid. so if the two Eids come together, that is a good thing.
Happiness is.. Fasting the day of Arafah and having the sins of the past year and the coming year forgiven.
Prophet Muhammad (Peace be upon him) Said: Whoever performs Hajj with any obscenity Shall return (from Hajj) like a newborn baby. – Al Bukhari.
Pilgrimage to the house is a duty towards God upon humankind, for those who can find a way there. (Quran)
Ramadan preparation: The Umrah in this blessed month is considered equal to the hajj in reward When it is performed during this month of Ramadan, Which is a great season for Good deeds.
A woman without a Mahram should not make Hajj. Her desire to perform it can earn her much greater reward.
Don't Think spending for Hajj will decrease you wealth. for not only does Hajj wipe away sins, But it also get rid of poverty.
Traveling for hajj reminds him of his journey to Allah and the here after. When the travels he leaves behind his loved ones, family, children and homeland. and the journey to the hereafter is like that too.
Hajj – A journey that starts off by seeking for his forgiveness and culminates with giving our forgiveness to others.
Hajj Spiritual Tips: Labbayk O Allah is not just the hajj motto and chant; It is a whole way of life. It is for pilgrims and non-pilgrims alike.
Don't save Hajj for the old age! you done know the date of your appointment with the angel of Death.
Have a blessed Eid ul adha