Diwali messages in english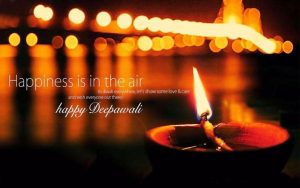 Happy Diwali messages in English
The festival of lights – Diwali is celebrated throughout India and abroad with immense splendor and grandeur. Marked across five days, one gets to witness different colorful and
lively varieties of diyas, bursting crackers and fireworks, relishing sumptuous food, offering pujas, and wearing new clothes. Not just about enjoying the numerous festivities,
Diwali is all about celebrating the victory of good over evil and light over darkness. Make your colorful festival even more bright and vibrant by sending your warmest and
heartiest greetings to your near and dear ones. Scroll through the lines below to know some popular Deepavali quotes which you can use in cards, as email messages and SMS, or pen them on gift tags.
7 days
168 hours
10080 minutes
604800 seconds are left..
I think i am the first person to
wish U HAPPY DIWALI..
———————————
* Wishing u a very happy diwali
With my
1 heart
2 eyes
7 liter blood
206 bones
4.5 million red cells
60 trillion D N A"S…
All wishing you a very very
HAPPY DIWALI!
———————————
* Diwali with fun and frolic
Let's celebrate the auspicious day of Diwali with fun and frolic
May this bright day bring Bountiful Bliss and Joy in your life
Here's sending wishes to you on this Diwali.
———————————
* On this festival of lights.
On this auspicious
Festival of lights
May the glow of joys
Prosperity and happiness
Alluminate your days
In the year ahead
HAPPY DIWALI.
———————————
* Accepting Diwali gifts
This is to formally announce that
I have started accepting Diwali gifts
By Cash, Cheques & Credit Card etc
Avoid last day rush. Send now!
P.S: if you are late, better late than never
so don't worry late gifts accepted as well 😉
———————————
* Diwali is here
The sweet smell of flowers
The array of colors
Diwali is here
Firecrackers are heard
Candles are lit
Children play
Presents are given
We pray to the Gods
Diwali is here.
———————————
* Joy of remembering friends
Let us keep Diwali holding it close to our hearts
for its meaning never ends
and
its spirit is the warmth
and
joy of remembering friends
IT'S THE DAY TO LIGHT THE DIYAS,
IGNITE THE ROCKETS AND BURST CRACKERS,
BUT IT'S ALSO THE TIME TO BE SAFE,
FROM THE FIREWORKS AND ALL THE SPARKLERS.
———————————
IT'S THE OCCASION TO THRONG THE TEMPLES,
PRAY TO THE GODS AND GIVE THEM OFFERINGS,
IT'S AN OPPORTUNITY TO ENTREAT THE DEITIES,
TO BLESS US ALL AND RID US OF SUFFERINGS
———————————
With gleam of Diyas
And the Echo of the Chants
May Happiness and Contentment Fill Your life
Wishing you a very happy and prosperous Diwali!!
———————————
May the joy, cheer,
Mirth and merriment
Of this divine festival
Surround you forever.
May the happiness,
That this season brings
Brighten your life
And, hope the year
Brings you luck and
Fulfills all your dearest dreams!
Happy deepawali
———————————
May the beauty
Of deepavali season
Fill your home with
Happiness,
And may the coming year
Provide you with all
That bring you joy!
———————————
On this auspicious festival of lights,
May the glow of joy,
Prosperity and happiness
Illuminate you life and and your home.
Wishing you a Happy Diwali
———————————
Light a lamp of love!
Blast a chain of sorrow!
Shoot a rocket of prosperity!
Fire a flowerpot of happiness!
Wish u and your family SPARKLING DIWALI
———————————
The gorgeous festival of snacks and sweets
everyone enjoying a royal feast
when old and young with delight meet
and with love and affection do all hearts beat.
Diwali is here – the gracious festival
Celebrating victory, of myth and mystery
The festival that signals Triumph over Tragedy
May it Bestow all with Love and Happiness!
———————————
If nobody is with you to celebrate Diwali
If you are angry with your ghar wala aur ghar wali
Then be friends now and celebrate Diwali!!
Always be happy and have a lovely Diwali!!