Merry Christmas Day and Happy holidays
Meaning of Christmas day:
Christmas is an annual festival commemorating the birth of Jesus Christ. Who Christians believe is the son of God. Early Christians might have given new meaning to this festival to celebrate the birth of the son of God.
The name 'Christmas' comes from the mass of Christ. A Mass services where Christians remember that Jesus died for us and then come back to life. The Christ-mass services was the only one that was allowed to take place after sunset and before sunrise the next day so people had it at midnight so we get the name Christmas. It is a religious cultural celebration among billions of people around the world. It is prepared for by the season of advent or nativity of fast and initiates the season of Christmastide. Christmas day is a public holiday in many of the world's nations.
When Christmas day: it is observed on Friday, December 25, 2020.
Why Christmas day celebrated on the 25th December:
No one knows the real birth of Jesus no date is given in the Bible.
The first recorded date of Christmas being celebrated on December 25th was in 336 during the time of roman emperor Constantine (he was the first Christian roman emperor). A few years later pope Julius I officially declared that the birth of Jesus would be celebrated on the 25th December.
A very early Christian tradition said that the day when Mary was told that she was have a very special baby Jesus (called the annunciation) was on march 25th and its still celebrated today on 25th march. Nine months after the 25th march is the 25th December. March 25th was also the day some Christians thought the world had been made and also the Jesus died on when he was adult.
December 25th might also have chosen because the winter solstice and the pagan roman midwinter festival took place in December around this date so it was a time when people already celebrated things.
Celebration: it celebrated by giving gifts, completing an advent calendar or advent wreath, Christmas music and caroling, lighting a Chris tingle, an exchange of Christmas cards, church services, a special meal with family and display of various Christmas decorations, including Christmas tree, Christmas light, nativity scenes, garlands, mistletoe and holly.
In addition several closely related and often interchangeable figures known as Santa Claus, Father Christmas are associated with bringing gifts to children.
Christmas day message: This is the season to celebrate the blessings of Lord Jesus Christ upon humanity. It is a time family and friends come together and remember the good things they have.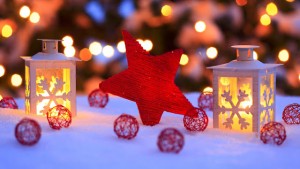 Happy Christmas: May the spirit of Christmas bring you peace
The gladness of Christmas give you hope.
&
The warmth of Christmas grant you love. J
Christmas wishes:
Wishing you all the joys and wonder of Christmas.
May this festival fill your life with bright and precious moment
And bring you lots of sweet & pleasant surprises.