Funny Friday Quotes , Sms , Messages
50 Funny Friday Quotes To Activate Your Weekend Mode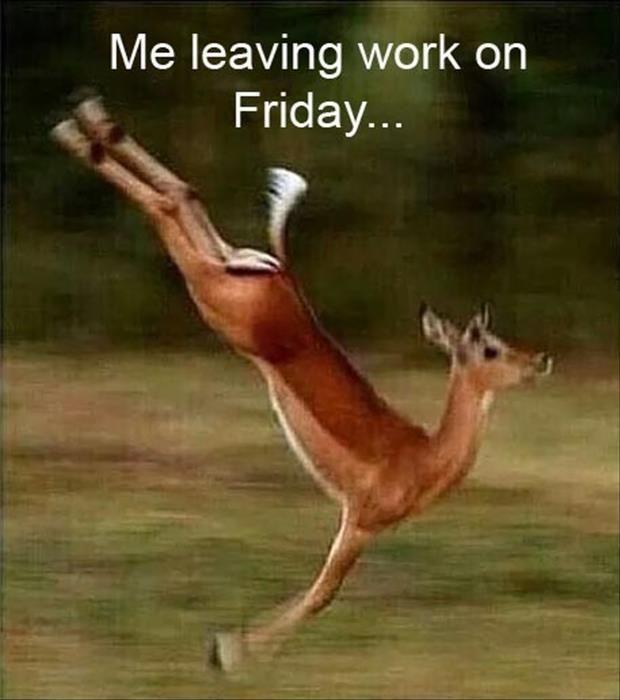 If you can't wait for Saturday to come, here is a collection of funny happy Friday quotes and memes to get you through the workday.
I don't work on Fridays. I make appearances.
"But it's Friday" is a valid excuse for almost anything today.
Work starts on Monday. Life begins on Friday.
Black Friday sale: Work ethics 100% off
It's 4:58 on Friday afternoon. Do you know where your margarita is? – Amy Neftzger
Employers are at their happiest on Mondays. Employees are at their happiest on Fridays. – Mokokoma Mokhonoana
If every day at work feels like a Friday, then you are doing what you were meant to do – Alan W. Kennedy
Friday afternoon feels like heaven. – El Fuego
I am instantly 70% nicer after 3 pm on Friday.
If my boss knew how unproductive I am on Fridays, he wouldn't want me here either. – James Johnson
It's Friday. Any plan of being a productive member of society is officially thrown out the window.
If you must have motivation, think of your paycheck on Friday. – Noel Coward
Fridays are the hardest in some ways; you're so close to freedom. – Lauren Oliver
You deserve a round of applause cause you make it to Friday alive.
10:00 am on Friday…all you can think about is beer.
Any decent man would know better than scheduling meetings for Friday afternoon.
Can we take a lunch break on Friday and come back the next Friday?
Friday is like a superhero that always arrives just in time to stop me from savagely beating one of my coworkers with a keyboard. – Rico
Dear week, I am so over you. I am leaving you for your best friend – weekend.
On Friday, I prefer my expresso in a martini.
Better days are coming. They are called: Saturday and Sunday.
May today be the Fridayest Friday that ever Friday.
You know what rhythms with Friday? Wine.
Friday is sponsored by the anticipation of the weekend.
Music always sounds better on Friday. – Lou Brutus
Life is like Friday on a soap opera. It gives you the illusion that everything is going to wrap up, and then the same old shit starts up on Monday. – Stephen King
Friday, my second favorite F-word. – Darynda Jones
Alexa, skip to Friday.
Fri-yay.
Wake me up when Thursday ends.
I love Fridays like Kanye loves Kanye.
On Monday morning, I look forward fearlessly to Friday's eve. – Ellen Wittlinger
Fri-nally!
Why is Monday so far away from Friday while Friday is so close to Monday?
Friday the 13th is still better than Monday the whatever.
Coziness+Smell of pancakes-Alarm clock=Weekend – Amy Krouse Rosenthal
Friday is the longest day of the week and Sunday the shortest! – D.S. Mixell
For people who don't like what they do, Friday is the best day.
For those who love what they do, Monday is the best day.
For people who have found their passion, each day is the best. – Hrishikesh Kamat
Do you enjoy these happy Friday quotes?
If you do, don't forget to share with a friend who may also need a boost before the weekend. Enjoy the best day of the week!