Brother Birthday Wishes From Sister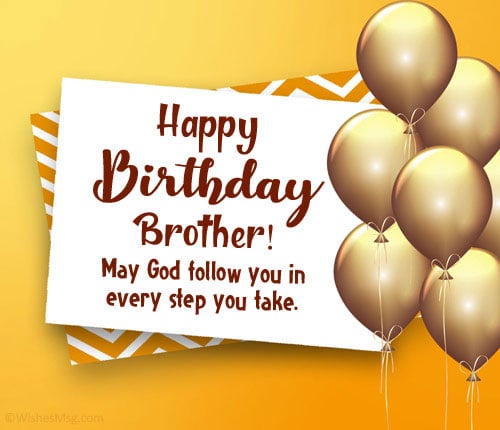 1 ) I wish for you to have a cheerful, memorable, and happy birthday now and forever!
2 ) Happy Birthday, brother! You are my constant best friend for life. And thank you for your support.
3 ) Some people are so awesome that they deserve the most wonderful celebration of their birthdays. Happy birthday my sweet brother!
4 ) Whenever it felt like my life took a wrong turn, you were always there to show me the right way. Thank you for always being there. Happy birthday brother!
5 ) You are the kind of brother who's always ready to go the extra mile just to make sure his sister gets the best of everything. Happy birthday for being such a great brother!
6 ) Despite all our silly fights and continuous arguments, you still are my favorite person in the world! Happy Birthday to my brother from his favorite sister!
7 ) Dear brother, Happy Birthday to you! Thank you for giving me a memorable childhood and an even better present! I love you to the moon and back!
8 ) A girl doesn't need to be afraid of trouble when she has a brother like you. Thank you for always having my back. Happy birthday!
9 ) Every brother is a priceless asset to his sister. On this special day, I want to say how much I love you and respect you. Happy Birthday Brother.
10 ) Thanks to God for making me a sister of you. Thanks for being such a wonderful brother. Happy birthday. I wish may all your dreams come true.
11 ) When I cry, you make me laugh. When I am sad, you put a smile on my face. I am the luckiest sister in the world to have a brother like you. Happy Birthday Bhai.
12 ) If I could put my heart together with my birthday gift, I will. That is to show and let you know how much I love and cherish you. Wishing you to have a special and happy birthday!
13 ) I make you laugh. You make me cry. This is the cycle of life, but on your birthday, I hope that we both smile and remember how special we are to each other.
14 ) You made my life easy by always keeping faith in me when everyone else would turn their back on me. You are the ideal kind of brother for a girl. Happy birthday!
15 ) My dear brother, Happy Birthday. May God bless you with all the happiness of this world.
Long Distance Birthday Messages for Brother
1) Today, I am really missing all the silly moments we shared. Happy birthday dear brother. Please come back home soon!
2) May your birthday bring loads of joy and fun to your world. I miss having my brother around. I hope you get blessed with everything you desire for.
3) Celebration of this big day is not complete without you here. But I assure you, when you're back, we are going to make a huge celebration together. Happy birthday!
4) A big shout out to my handsome brother from a distance. I hope you're having a great time there. Don't be sad, because you'll get your due when you're back!
5) Happy Birthday to you, dear brother! Enjoy your special day with your loved ones!
Short Birthday Wishes for Brother
1) Happy Birthday to you! Thank you for being an amazing brother to me!
2) On your wonderful birthday, hope all the angels are singing to you in heaven.
3) Your presence in our lives makes it much more joyful and colorful. Happy birthday, brother.
4) Have a delightful birthday my wonderful brother. You deserve every ounce of happiness.
5) My dearest brother, I wish you a very happy birthday. May God bless you.
6) May this day gives you a new beginning of life. I love you and wish you a joyful birthday.
7) I wish you nothing but the best on your special day. Have a blast.
8) Growing old with you is a great journey and I want more of it. Happy Birthday.
9) My childhood would have been double fun if I had another brother like you. Happy Birthday.
10) Your existence itself is a blessing for me. Happy Birthday! Enjoy your day!
Happy Birthday Big Brother
1) Thanks for getting me out of trouble every time I made a mistake. You're the perfect big brother anyone could ask for. Happy birthday!
2) Thank you for the priceless and unconditional love you have given me. May all the success and happiness you seek in life find your door always. Happy birthday!
3) It is your birthday, but the cake is mine as always — so happy birthday.
4) You are the only person who can make me laugh and cry simultaneously. Have a great Birthday bro.
5) It's a blessing for us to have you in our family. Happy birthday!
Birthday Messages For Brother
1) Every birthday of yours is a day for us to think about how amazing kind of a person you are. You are the best thing the ever happened to us!
2) The moments I have spent with you are the best moments of my life. Happy Birthday big brother.
3) I would have crumbled inside without your support, love, and care. Happy Birthday and I love you bro!
4) May God offer you a sunny and shiny life ahead. I wish that your life be filled with beautiful moments and exciting memories. Happy birthday big brother!
5) May this day open the door of happiness and joy so that they enter in infinite numbers into your life and make it a piece of heaven! Happy Birthday!
6) May your life be filled with an abundance of happiness and cheers. You deserve all the best things in life. Wishing you a gleeful celebration of this day!
7) You are by treasure box of happiness dear brother. Celebrate this birthday with this thought.
8) I trust no one as I trust you. Happy Birthday handsome.